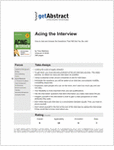 I have a friend who is looking for a job right now so this freebie has perfect timing!
Acing the Interview: How to Ask and Answer the Questions That Will Get You the Job! - Free Book Summary

Know in ten minutes what takes others hours to learn, and keep up with the latest trends in the industry
This is a free book summary offered by getAbstract.  You can also sign up for more FREE offers from TradePub.com at the same time as you request this book summary!  Click here to signup.